Meet
Don Rocha
"Shawna and I are raising our three children here. Our parents live here. Everything that is important to us is right here in our community.
As your Supervisor, I will continue to make sure this region is as strong, healthy and happy as possible."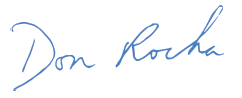 Responding to Growth
The rapid growth experienced in Santa Clara County brings many challenges to our communities, including steeply rising housing prices and traffic congestion. As a Councilmember, Don worked to meet these challenges by expanding access to affordable housing and supporting investment in our transportation infrastructure. As a Supervisor, Don will continue to preserve our quality of life as our area continues to change.
Improving Our Roads
Don will continue to support road pavement maintenance projects and focus on improving road safety for residents like adding more pedestrian crosswalks, so children can safely walk and bike to and from school, parks and libraries.
Investing in Local Services
On the City Council, Don advocated for and secured funding to provide and enhance services such as free lunches for seniors, increased hours for our neighborhood libraries, and additional funding to help improve and maintain our parks. As Supervisor, he will continue to invest and prioritize these programs, raising the level of services so that they meet the unique needs of our communities.
Making Communities Safe
Don made it a priority to keep our communities safe on the City Council. There he worked to build back staffing in our Police and Fire Departments to address growing concerns about residential burglaries and speed enforcement, as well as, being able to respond rapidly to medical emergencies. As a Supervisor, he will continue to build a strong partnership between the County and our cities to ensure that our community stays safe.
Volunteer with Team Rocha!
Sign-up for future volunteer opportunities!
Contact us: donaldrochasupervisor2018@gmail.com or Donald Rocha Supervisor 2018, P.O. Box 7238 San José, CA 95150. FPPC#1393712.